If you can make a donation online
using PayPal , please use this link:
________________
If you can mail in a donation, this form may help:
________________
Thank you for your time and consideration!!!
with licks & wags,
The Dogs of N.G.A.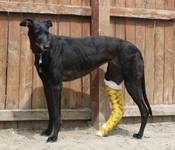 Non-monetary donations are appreciated as well!
Here is a list of items that the dogsl could really use ...

blankets & soft bedding - this is a big need, Greys have no extra body fat and thin fur, comfy bedding makes their lives so much better! (Sheets do not give much for bedding but polar fleece and wool blankts are great, comforters are welcome too; and if you can cut king-sized comforters in half and sew back together the open ends that would be awesome! It really helps when they need to be washed.)

high quality kibble & healthy treats - please call ahead for brands/varieties, or for a quick guideline the brands that Pet Food Warehouse lists are all good, as is Blue Seal made in nearby New Hampshire. (Sorry, but low-end kibble from grocery stores and discount stores will upset their delicate digestive systems; especially as they are transitioning from track feed to kibble.) Treats like bully sticks and fish skin are always a hit!

dog toys & stuffed animals to cuddle - no "bean-filled" (styrofoam or plastic beads) toys or toys that could be choking hazards, please - and "squeakers" get them all barking so those are to be avoided too - thank you!

cleaning supplies - including paper towels, laundry detergents, general cleaners, gentler detergents preferred & nothing using ammonia please
Please call ahead to make arrrangemnts for a drop-off, Thank you!!!