<- Back to Happy Tails
Cassie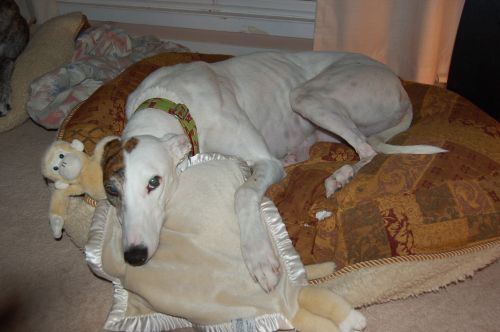 Cassie's Homecoming:
"Cassie came home on Dec. 6th 2009. After saying goodbye to her kennel mates, we headed home to Ottawa. Other than her wanting to drive, it was an uneventful trip home but she came into the house like a whirlwind. She raced through the house and at one point tried to walk across the coffee table, then she saw a football pass on TV and tried to catch the ball. After giving her a bath, she pulled my jacket from the chair, found a couple of stuffies and settled down for the night. From then on she knew she was home. She is just a delight and loved by her human and canine housemates. After 7 months she continues to do well.
Thanks to Dorothy from NGA for all you do to help these wonderful hounds and a special thank you to Laura from GSNCR for coming with me to pick her up and help with giving her a bath.
Cassie has indeed found her forever home."

Registered Name: Che Mar Cassini
Sex: Female
Adopted on: Dec 6th, 2009
Color: White & Red Brindle with Ticking
Right ear tattoo: 85J
Left ear tattoo: 34098
Birthday: Aug 9th, 2005
Arrived at NGA: Oct 3rd, 2009