<- Back to Happy Tails
Davis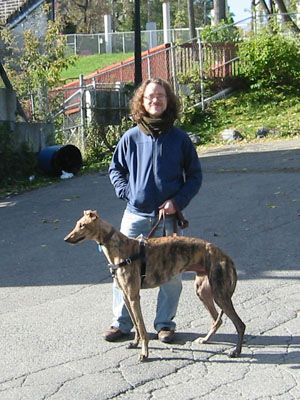 Davis arrived four weeks ago. He has been wonderful company and is an absolute joy to have around. True to the description of the breed, he loves his long naps, has impeccable manners, and does not bark (even when confronted by other naughty, yappy pups in the corridors of our building!). In spite of being a bit nervous at first, he was keen to come for walks and get to know his neighbourhood. Initially, we took him out at intervals that allowed him five bathroom breaks a day just to reinforce that he must go outside. Within a week, however, this was reduced to a very regular schedule of three breaks a day and he has not had a single accident in the apartment since he arrived. With every passing day he continues to become more cheeky, amusing, and engaging. It is fascinating to see his confidence grow and his character develop and we look so forward to seeing him shine in the months and years ahead.
As first time greyhound owners, it is quickly becoming apparent why so many owners end up with a small collection of these lovable pups. We are so smitten with Davis, we had secret plans to someday adopt his little sister Kate. However, we are happy (and not one bit surprised) to see that she has since adopted a loving family all her own and we wish her all the best!
-----
Davis is littermates with Kate and Dream!
Registered Name: Change Order
Sex: Male
Adopted on: Oct 25th, 2009
Color: Brindle
Right ear tattoo: 87B
Left ear tattoo: 44632
Birthday: Aug 1st, 2007
Arrived at NGA: Oct 3rd, 2009