<- Back to Happy Tails
Grujot (was Bandit)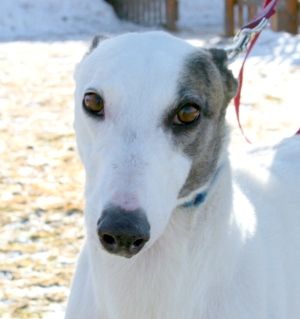 Grujot's Mom writes:
"Hi, here's a little update on Bandit, now his name is Grujot and he speaks french. Grujot came on Sunday Aug 9 and met his new brothers and sister. First he met with Urielle (the leader) outside the property and she brought him inside the backward. He was looking everywhere because they have a private fence backward of 10 000 square feet. After came Sir Gontran the standard poodle of only 9 months. Everything was fine. He got led inside by Urielle but first Grujot had to climb up a few stairs. Thank god for my new mommy that have tricks to show me how to do it. (I'm the fourth greyhound that she adopted). Inside, there is laminated floor and it's slippery a bit. I put some runners and blanket to help him a bit. Now he's not too bad. Grujot and Sir Gontran play a lot and sometimes Urielle joins in but has to be the fastest (she's an old grumpy 9 years old, always have to win). 2 weeks after Grujot came to us, I caught him sleeping on hi back....Having his teeth drying and being fanned on his belly. The other brother is a 15 years old cat Pooky, Grujot is amazed by him... Grujot is a happy puppy and he has an chopper tail. He's a kisser and a leaner and a heavy one. He likes to be pet, but don't leave your hand not moving to long on him because he will growl and leave. Except that, everything is very fine no fight (yet) and everybody knows where they stands. I will send you pictures of the gang..."
----------------
Bandit is a gentle mellow sweet boy though he is quite large, he's a favorite at meet and greets; good with children and not much phases him - a real love, and handsome too!
Registered Name: Retief
Sex: Male
Adopted on: Aug 9th, 2009
Color: White & Brindle
Right ear tattoo: 54B
Left ear tattoo: 26436
Birthday: May 14th, 2004
Arrived at NGA: Sep 30th, 2008