<- Back to Happy Tails
Blazer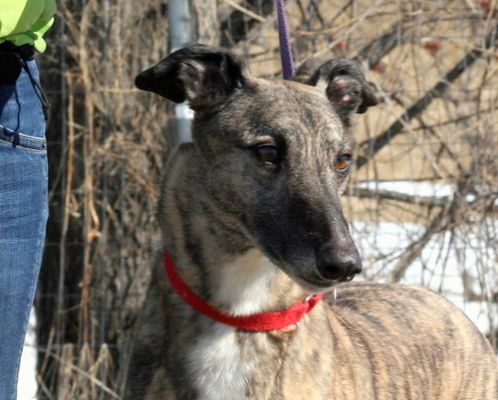 Blazer was an Annual Reunion day adoption - it was announced to the crowd that he was going home and there was greyt cheering! He is in a wonderful home with Willow, Andy & N.G.A. alumni Sil (was Sylvester).
- - - - -
Blazer is a wonderfully handsome (photogenic, too!) large boy who is very strong physically, quite intelligent, too. And a real love-bug; he relishes cuddles and gives great smooches!
He will make a loving companion but he needs an adopter who is more "alpha" than he is; he will push if he thinks he can get away with it. However he will behave well for those who are kind, gentle and consistently no-nonsense.
Probably best with older kids simply because of his size and boisterous nature - definitely not for a home with small animals.
Registered Name: Sobe Trailblazer
Sex: Male
Adopted on: Jun 25th, 2011
Color: Light Brindle
Right ear tattoo: 124B
Left ear tattoo: 30700
Birthday: Dec 7th, 2004
Arrived at NGA: Jan 9th, 2010