<- Back to Rainbow Bridge
Larry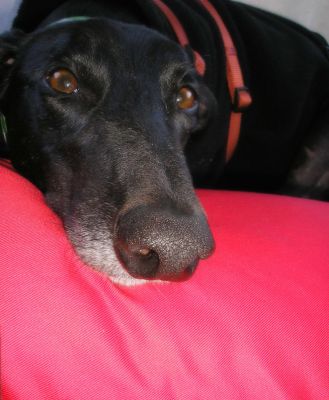 from Larry's people:
"Bonjour!
We wanted to give you a long overdue update on big Larry. He is doing great! He loves to travel in the car; he's very patient. He is a sweet boy and we have a lot of fun with him. Oh, and Dorothy wasn't kidding... Larry does love his food :)
Thank you again to all the crew at Northern Greyhound Adoptions! See you soon" Apr 2, '11
-----
Larry was born in Ireland and raced there under the name "Mickeys Magic"
Larry is a big boy, a lot of fun and has a happy temperment - he tested well with cats, and good with the children he has met, would probably do best with older ones simply because of his size, who knows though, he could settle right down for younger ones as many Greys do! He LOVES hugs!
Click the icons below to see racing footage of Larry - he was the winner in the 2nd video:
Registered Name: Mickeys Mystery
Sex: Male
Adopted on: Sep 18th, 2010
Color: Black
Right ear tattoo: EY
Left ear tattoo: ALD
Birthday: Apr 4th, 2006
Arrived at NGA: Jan 9th, 2010
Date this dog passed on: Nov 30th, 1999