<- Back to Happy Tails
Gunner (was Bob)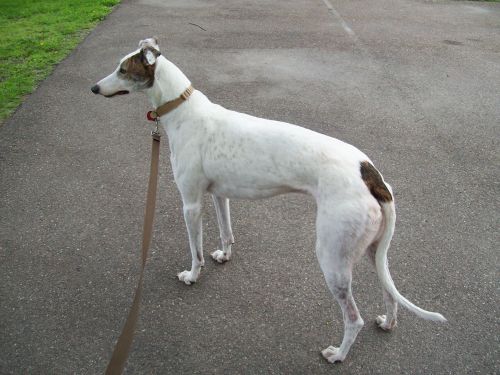 Gunner's Mom writes ...
"Bob's name was changed to "Gunner" because my ex-husband's name was Bob. When looking at his registered name I saw it was "Ditto Smart Gun", and wanted to use part of his real name. So Gunner it is. The funny thing is , that when in the setting of the kennel, I find myself calling him Bob at times. He will answer to either, and if we are at the kennel, you don't have to apologize for using the name that you knew him by. We all have many nick names, depending on where we are.
I chose Bob 100% on his temperment. He was the least striking dog in the place, and I looked past him for a long time. My eyes were set on Rhonda, Astro, Gordy, or Micky. All of which are strong, and energetic dogs. I love those types on a leash, but I was not confidant about them with my cat, or around the antiques in my home . I kept noticing that Bob would not react to small dogs , while the others would get all excited . I could walk up to a small dog with him, and he would be a perfect gentleman,so I took him home on a trial run.
We walked in the door, to be greated by my cat "Nikita". Bob just stood there and allowed her to sniff him. They first sniffed noses (Bob had a muzzle on), then Nakita walked all around him and sniffed his legs. When I put him in his kennel, they both sat, and looked out the window together. The cat was just outside the kennel. Within 2 days, Bob could be trusted with no leash, and no muzzle, while in the house. The cat is the Alpha, and that's just how I want it .
While I was on the phone telling Dorothy that I will come by with the adoption fee, Gunner was in his kennel with the door opened. Nikita, the cat, walked right up to him in his kennel, and sniffed his nose. When Nikita walked away, Gunner stayed right there.
I take Gunner to a 4 acre fenced in dog park regurly, and he is getting his share of running. He has lost weight, and put on some muscle. he also gets groomed daily, and has shed out that old hair. That pink splotch on his back as gone away, and he has a bit of a shine to his coat. Bob was an ugly duckling, but Gunner has transformed into quite a handsome dog."
----
To The Dogpark by Bike
"
Yesterday 7/15/02. finally we had a whole day without rain ! Until then, I had only tested the modified bike trailer around the block a few times.
It's an 8 mile trip to the dog park from where I live, and all but 1.5 miles is on bike paths .It's relatively flat for Vermont, but has some short hills, one is a fairly steep climb . Pulling a 74 lbs dog, in a 30 lbs trailer is best done with the mountain bike as opposed to my racing bike. The mountain bike has a heavy frame, low gears, and disc breaks front and back. It works perfectly. There hasn't been a climb we haven't been able to ride up, or come to a stop while going down .
Every time I turned around to look at Gunner he seemed very content, and actually to be enjoying himself . At one point, a rabbit crossed in front of us, and I thought all Hell was about to break loose ! When I looked back at him, he was just calmly watching the rabbit There was no attempt to try and break out of the trailer.
When on the leash he is very happy to chase, but only after he "asks permission".With both squirrels, and rabbits, he will hold his head up, step highly, and give a very gentle tug. If I release, and give him more line, he will take chase. If I resist ever so lightly, he releases his tug, and just high steps,while accepting that he isn't going to get to chase. Cats, he NEVER is allowed to go after ! He walks by calmly as he knows he must do. Some how, with no training, this dog seems to know when it's appropriate to chase, and when it's not. This is the most amazing behavior trait I have ever seen in a dog. Never before have I experienced working with such a willing ,and cooperative animal .
When I do let him chase , I mimic the guy on the videos of his races saying " Here comes the SWIFTYYYYY !" ,and I go for a ride as he chases the squirrel or rabbit . Hopefully, this winter, when I'm on cross country skis, I can say those words, and go for the ride of my life ! I'll try him in the harness which I use to seat belt him when in the car. If he pulls,it will be a lot of fun, if not, oh well . It's worth a try any way."
On 7/28/09 Gunner's mom writes:
"
Today Gunner (was Bob) turned 4, and he went to the Pet Food Warehouse to chose his birthday toy. His limitation was that I would not have allowed anything in the image of a cat. Those are totally off limits for Gunner, even a look alike ! He grabbed a squeaky rabbit from the rack, and tossed it around the store, entertaining all the staff. By the time we got to the counter to pay for it, the thing was soaking wet. He left the store a happy guy.
I don't know my cat's real birthday, so we got something for her as well, and this will be both of their birthdays from now on."
Gunner and his Mom do many neat outdoor activities together - she has done AMAZING work training him and has put lots of effort into doing things like building up his stamina (not an easy task!) Here ar some YouTube videos of Gunner (& his Mom) in action!
Gunner made the local news about a snow storm - interview with him & his Mom toward the end of the video ...

Registered Name: Ditto Smart Gun
Sex: Male
Adopted on: Jun 7th, 2009
Color: White & Brindle
Right ear tattoo: 55D
Left ear tattoo: 33921
Birthday: Jul 26th, 2005
Arrived at NGA: Sep 30th, 2008