<- Back to Happy Tails
Bly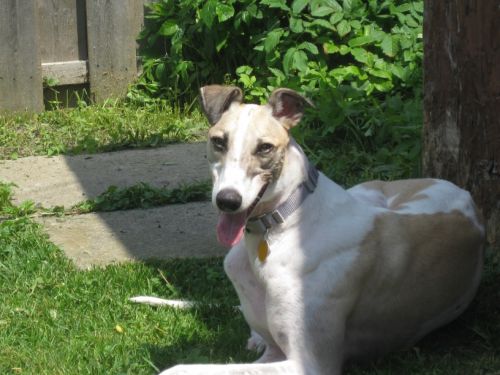 Almost two weeks that Bly is home - the ride home was great even if we drove all the way home with the windows down.
Once home Bly did great with the stairs only helped him twice. He`s a pro now. He enjoys the kids and the kids enjoy him.
No accidents in the house Bly asks to go out, enjoys walks with me or the whole family not even pulling. Bly is full of kisses f
or everybody he also enjoys our hugs and tummy rubs . We will be going camping in Prince-Edward-Island in a month Bly will
be part of our trip hope he enjoys the ocean as much as we will.At first we thought that we would be changing Bly`s life for the
Better which we believe has happened but to my surprise and to the whole family`s surprise Bly has profoundly changed our lives.
A big thank you to donna and Klaus and the staff at Northern greyhound adoptions you are all really Greyt.We will send more
Pictures and info after out trip to P.E.I.
Bly has found a forever home in Montreal! Updates and pictures to come!
Bly-guy is a sweetie, a happy disposition and a real charmer! (Affectionate with kids too!)
Registered Name: Bly
Sex: Male
Adopted on: Jun 5th, 2010
Color: White & Fawn
Right ear tattoo: 117F
Left ear tattoo: 45178
Birthday: Nov 28th, 2007
Arrived at NGA: May 3rd, 2010