<- Back to Happy Tails
Fionn mac Cumhaill (was Snoopy)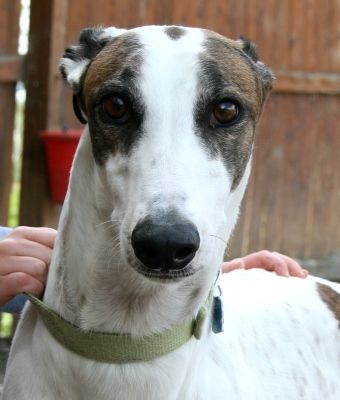 (Pronounced Finn McCool ;) )
Fionn is a giant in Gaelic folklore. Fittingly appropriate for this gentle giant of a hound who went home at 79 lbs!
Fionn is now living in Utica NY with his lab sister, Molly
Here's an update from his new Dad:
Hi,
Just wated to give you an update on Fionn.
He did very well traveling except that I should have remembered a gas mask for Lois! Thankfully that was the worst that happened.
So far so good on the homefront. Molly and Fionn are getting along well.
Finn is already starting to tackle stairs. He is vey confident going upstairs
and is needing assistance going down whick is no surprise either. He slept in his crate in the living room last night but I am planning on moving it upstairs tonight. I'll keep it in the hallway just for his knowledge but will try to acclimate him to his bed beginning tonight.(He is way too big for mine unless i trade beds with him).
His appetite is good eating everything from last night and this morning. So far no accidents in the house (not from Fionn anyway). He even made it to the pen to poop this morning.
So far my neighbours are pretty accepting and positive. I hope they stay that way when he poops on their lawn. He hasn't met the Great Danes across the stree yet but has encountered many of the humans. He has been great so far with all of them.
For today we are just hanging around the house. I may walk him over to meet my Mother in the Nursing Home if I feel brave later. That should be neat.I think she is excited.He is not anxious with sounds as all which is good as my neighborhood can get noisey at times. He explores everything new.
Tomorrow he will go for a spa day at Pet Supply Plus. Maybe Molly can get one too! OK when is mine??? We have also been invited to Lois' for a picnic so he will have a full day.
Thanks again for everyones help. I'm sure Fionn will fit in fine and gain some much needed weight as he gets used to his new Home!
Jim
===================================================

Snoopy is one of the biggest Greyhounds we have ever seen - but he is just the GENTLEST giant! Great with kids. Sweet, calm and a real joy to have around!
Registered Name: Yunitad
Sex: Male
Adopted on: May 29th, 2010
Color: White Ticked with Brindle Spots
Right ear tattoo: 17F
Left ear tattoo: 40925
Birthday: Jan 12th, 2007
Arrived at NGA: May 3rd, 2010