<- Back to Rainbow Bridge
Paso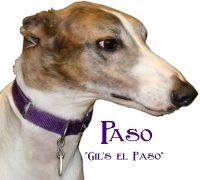 Sadly, Paso has gone to the Rainbow Bridge
Dear Dorothy
This letter is to inform you and the NGA supporters of the passing of Paso. I as well as Edgar (and our neighbor's 5 cats) were very grateful for the short time given to us to allow Paso into our lives and to allow him to enjoy his short life outside the kennel.
I want you and all the friends of NGA (especially the ones who contributed towards his medical expenses) to know that his passing was NOT in any way related to his cancer. He was making remarkably good progress from kidney issues until complications from a recently received vaccine set in.
A few final observations about Paso that stand out in his short life with us:
Upon coming home Paso discovered what a squeaky toy was and loved to constantly play with it. The way he responded to the squeaker and chewed it to make it squeak was great, while the absolute look of disinterest on Edgar's face was a pretty comical thing to see.
During Paso's treatment at home, Edgar took it upon himself to make sure I knew if Paso needed attention by barking and standing over him.
In conclusion I would like to thank the following people for their great help, dedication and devotion to their profession in veterinary medicine:
Ohio State University – Dr. Guillermo Couto
Smith Ridge Veterinary Centre – Drs. Martin Goodstein & Jacqueline Ruskin
Holistic Centre for Veterinary Medicine – Dr. Cynthia Lankeneau
And finally to Dorothy and all the volunteers and supporters at NGA for giving Paso a second chance and six months of life he never would have had without your help.
Paso (Gil's El Paso) 2005-06-07 – 2011-11-17
===============================================
We have greYt news to share!
Not only is Paso happily in his forever home (with Edgar) - hiscancer is in remission!
Many thanks to the people to contributed to his care with donations and well-wishes!
Paso has gone home to New York! He was adopted with Edgar!
Registered Name: Gil's el Paso
Sex: Male
Color: White & Brindle
Right ear tattoo: 65D
Left ear tattoo: 33153
Birthday: Jun 7th, 2005
Arrived at NGA: Jun 5th, 2010
Date this dog passed on: Nov 17th, 2011