<- Back to Happy Tails
Rue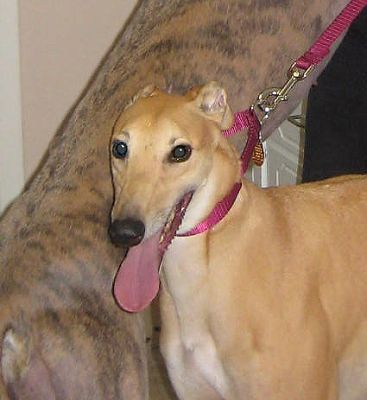 Rue's "Auntie" writes:
"Thank you, Sue, for facilitating Rue's adoption to my brother-in-law, Tommy. They are a good match for each other.
Check out the picture - Inga's reaction when Tommy and Rue got back. Inga stood on her hind legs, put her arms on Tommy, and thanked him for adopting a Greyhound. She volunteered to babysit Rue anytime Tommy comes back to visit. She also questioned if he would still love her just as much as before!
Rue is beautiful and smart. She knew how to climb our stairs too! Tommy recently retired, so he will have tons of time to spend with her. He also has a fenced-in backyard for her to run in. Rue will be a happy dog.
Greyt wishes,
Monica"
-----
Roooo-Beeee Rue! What a pretty pretty girl! She's a little shy but warms up quickly, not overly active, not a lump either, just a nice all-around girl.
Registered Name: ???
Sex: Female
Adopted on: Oct 24th, 2010
Color: Red
Right ear tattoo: 26F
Left ear tattoo: 36341
Birthday: Feb 1st, 2006
Arrived at NGA: Jun 5th, 2010