<- Back to Happy Tails
Diego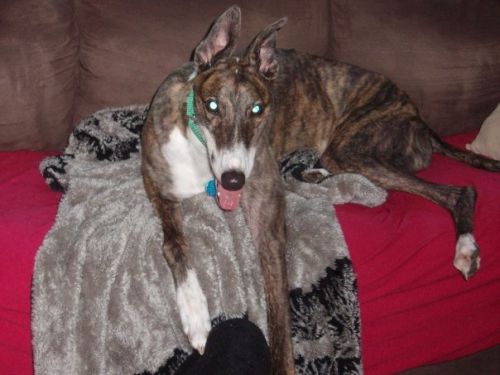 Diego's Mom writes:
" Here are some pictures of Diego in his new home with his two sisters peaches and prancer. Thanks so much for letting me adopt him, he is a wonderful boy.
-Jessica"
--------------------

Diego is a big (77 lbs) sweet ham of a boy, very gentle though & VERY good with children! He recently had the end of his tail amputated; it didn't heal after being accidently shut in a door (eek!) but he is still the handsomest goofball one could ever ask to meet!
Registered Name: Seecon
Sex: Male
Adopted on: Jul 26th, 2009
Color: Brindle & White
Right ear tattoo: 15B
Left ear tattoo: 30815
Birthday: Jan 20th, 2005
Arrived at NGA: Nov 20th, 2008