<- Back to Happy Tails
Dahlia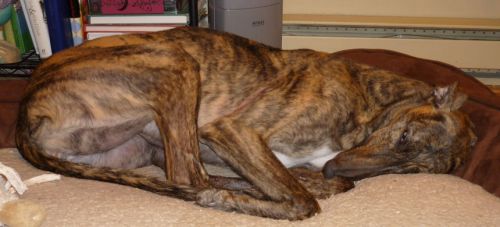 HI,
Dahlia had a very big day today, and she would like to let you know how she did:
When we left Northern Greyhound Adoptions shelter we headed for Costco, where my mom picked up dog food and treats.
We called our friends and were invited for a run at their place in Rouses Point. When we arrived - I cried with joy - there were 2 Weimaraners already waiting outside for us! Jag and I put our muzzles back on (mom helped) and went to meet the pack - it was bliss. We ran up and down in the snow, leaped over the stairs to come back into the house and rearranged all the stuffed toys (yes my mom took my muzzle off at some point, and that's when I finally got a chance to show them that I was a real merry maid ) I played with 5 Weimaraners from 3 months old to 11 years young! I was good - real good - made a lasting impression and was a real great ambassador for my breed. Weimaraners are a lot like me, except that they are noisier and somewhat a little more agitated.
My companion Jag had enough with the muzzling and wanted to head back (yeah he whines a lot) - so we headed for more errands and mom found me a nice cozy memory foam dog bed! HE HA ! I slept the whole way home on my new bed.
When I entered my new forever home, I was welcomed by a couple of strange lookin' felines.... woooo we - it took them all but 1.5 seconds and they disappeared into the master bedroom.... oh well. I tried out my new yard, interesting stairs and a terrace to boot.
My mom kept calling me over to check out the bathtub, she was really intent on me smelling like a Dove girl... so in we went, I was an angel, I let her bathe me all over and spread her Dove bubbles and ohhh it felt good on my toetoes to soak in that warm water. She let me shake it all off at the end and I got nice and toasty by the heating dock in a comfy dog bed, there seems to one or two in every room here.
How can forget to mention Spike, the blue and gold macaw who sang her whole repertoire to me through the glass door when I arrived - she really had me going there. I cant wait to sniff her out up close and personal !
Well it's been a real long day - and I need my zeezzz - tomorrow mom mentioned she'd like to try the dremmel on me... I'm not sure about that yet !
We just love her to pieces! She is fitting right in like she's been here her whole life.
Thank you so much for your devotion to the cause. You've made me a very happy owner.
Registered Name: Lava Cain
Sex: Female
Adopted on: Feb 5th, 2011
Color: Brindle
Right ear tattoo: 128B
Left ear tattoo: 49569
Birthday: Dec 31st, 2008
Arrived at NGA: Nov 7th, 2010