<- Back to Happy Tails
Evan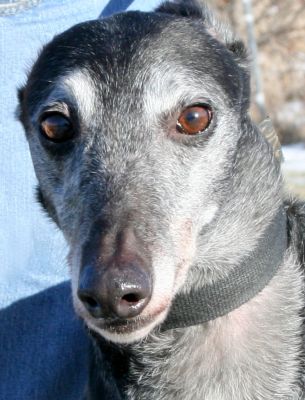 An update sent July 15, 2011
Evan "Where's Evening"
April 29th 2009 we adopted our beautiful black Evan ("Where's Evening"), who was the oldest hound at the kennel & who had been there the longest. Elegant Evan is now a healthy 9 year old who is firmly entrenched himself in our hearts and is fully in charge of our household. His new energetic hound housemate, Toulouse, outweighs him by 17 pounds. But, big Toulouse is always second in line. Evan makes sure that he is first for affection, food and walks – not a sound is made – he just wiggles himself into first place to get what he thinks he deserves. He makes himself a double bed by dragging Toulouse's cushion next to his so he can stretch out comfortably across both cushions. Toulouse has to find somewhere else to bed down. His claim to being the "senior hound in charge" is remarkable since he was so shy at the kennel that he had to be coaxed out of his kennel for us to see him. Once out of kennel, he decided that we were his family and it was the beginning of a love story that continues today.
Diane & Ralph

an update sent April 25, 2010:
"A year ago we adopted Evan, the oldest resident of the kennel and the hound who had been there the longest.We were looking for a young, fun-loving, preferably brindle male who would be a companion for our active 8 year-old German Shepherd.
Timid, black, 7 year-old Evan had to be coaxed out of his crate. The match was made! Evan had been waiting for 4 years for us to come for him. The love story of this retired racing hound and his very own family was about to begin.
We re-considered our image of the ideal hound. Our shepherd, who is very particular about the company she keeps, seemed comfortable with this polite deferring male. He claimed us as his family, leaning against us and giving us a look that was clearly saying, "finally you came to get me".
We adopted our handsome 7 year-old boy. In less than a week, Evan mastered the stairs, toilet routines, going for long leisurely walks and sleeping anywhere he can find a cushion. It seemed as if he already knew how to fit in to our lives.
The love story of gentle, elegant Evan and his family continues.
-----
Evan is a calm and dignified gentleman and the senior of the kennel in that he's over 7 years old and has been here the longest ... is your couch calling his name?
Registered Name: Where's Evening
Sex: Male
Adopted on: Apr 25th, 2009
Color: Black
Right ear tattoo: 32A
Left ear tattoo: 11685
Birthday: Mar 4th, 2002
Arrived at NGA: Jan 1st, 2005