<- Back to Rainbow Bridge
Jackson (was Kolton)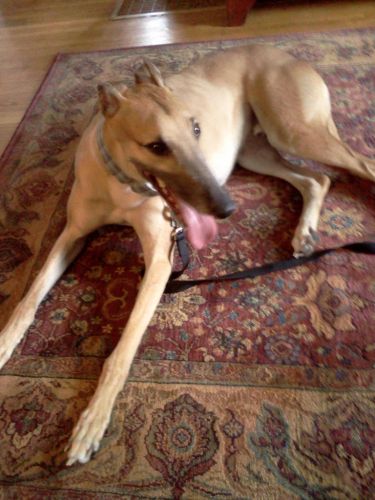 Dear NGA,
We are so sad to write about the passing of our Jack (a.k.a. Kolton, CTW Trade Name) on May 26, 2012. We brought him to our vet because he had stopped eating and his belly looked distended. Unfortunately after many tests, he could not conclusively tell us what was wrong with Jack. He told us to say our good-byes and he would try to treat him through the night with anti-biotics. We prayed for a miracle that never came, and our sweet Jack passed away in the night.
Although we did not have nearly enough time with him, he was so very much a part of our family. We took him hiking, to soccer and baseball games, dressed him up for Halloween (and any other time Abby felt he needed a little extra "bling"), and even marched with him in a parade.
When we first got him, he never wagged his tail. I thought it was something he just didn't do until one day he greeted me at the door just wagging away. He seemed to be as surprised by the movement back there as I was.
The twins and I loved to make Jack "roo." I'm sure many a neighbor wondered what that crazy Bruce family was up to as we all howled away until David couldn't take the noise any longer. On week nights when I'd been at work all day, if Jack did not feel I had paid him enough attention, he would lift up my newspaper with his nose and bark at me until I gave him some love. It was really the only time he ever barked.
When we first met Jack at NGA, Sue threw a toy for him out into the yard and he never moved a muscle. He stood right there and basked in the attention we were giving him. This trait never left him. He could have cared less about sticks or balls...all he wanted was to lean against us and feel our hands on him.
Every day he was with us, I would put my forehead against his and look deep into those soulful eyes and kiss the little black stripe on top of his head. Run free sweet Jack...you are loved and missed.
Allison, David, Abby, and Ethan Bruce

Adopted Date: July 6, 2011
Birth Date: Dec 10, 2006
Color: Red Fawn
Died: May 26, 2012
Dear Sue, Dan, and all at NGA,
I wanted to send you some photos of Kolton - we have been calling him Jackson (Jack for short.) He has become a part of our family so quickly, it is like he has always been with us. He has been to a t-ball game where he was a big "hit" and was wonderful with the other children and dogs. He has also been to the playground which is all fenced in and gated. We thought he would enjoy running around off leash but no, he just wanted to lie by my feet in the shade.
The twins love him to pieces. The first morning he was here, he went into Ethan's room and kissed his face. Ethan woke up and said in his most excited Christmas morning voice, "There you are! Oh my gosh - there you are!" Thank you so much for helping us find such an amazing friend.
Allison, David, Abby, Ethan, and Jackson Bruce
Registered Name: CTW Trade Name
Sex: Male
Color: Red Fawn
Right ear tattoo: 126F
Left ear tattoo: 40645
Birthday: Dec 10th, 2006
Arrived at NGA: Nov 21st, 2010
Date this dog passed on: May 26th, 2012