<- Back to Happy Tails
Otto (was Thunder)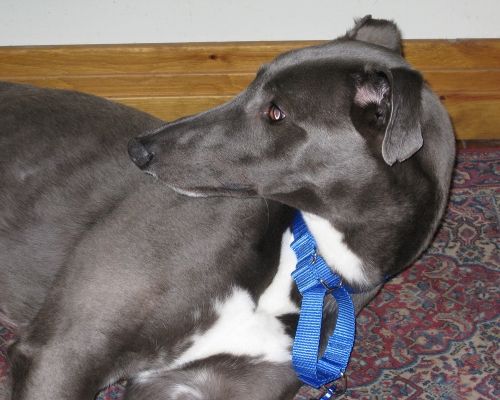 Thunder's Dad writes:

3/16/11

"Hello All,
Thunder's all settled in (as evidenced in the following photos).

Enjoy!

Robert"
added in a PS: "it just dawned on me that there aren't any photos of him standing! will send a few soon."


3/14/11

"Thunder is doing exceptionally well.

He looks quite pleased with his new environment and is settling in nicely. He's eating properly and we discovered that he's a quick learner (stairs - accomplished in under 24 hours!) He's also comically vocal - we totally love this (our last greys were all very, very quiet).

I'll send out a few snapshots later this week.

Regards, Robert"
Registered Name: ExtraordinaryThunder
Sex: Male
Adopted on: Mar 12th, 2011
Color: Blue
Right ear tattoo: 29H
Left ear tattoo: 49772
Birthday: Feb 9th, 2009
Arrived at NGA: Feb 9th, 2011