<- Back to Happy Tails
Dash (was Alaska)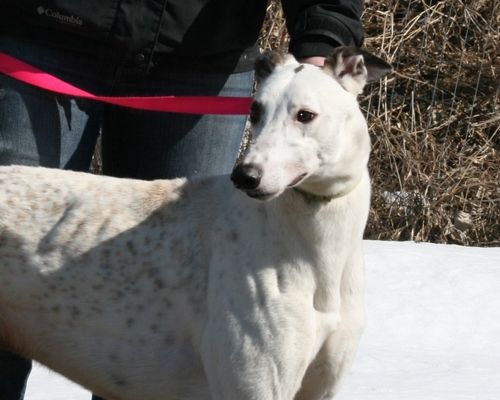 Dash's Mom writes:
"Sue,
I can't begin to tell you how happy we are with Dash (Alaska). He has been such a wonderful addition to our family. It has been a great experience for all of us.
We have tried to follow all your advise about potty training and so far he is doing ok. We understand it is a big adjustment for him but he is handling it like a trooper.
We go for short walks (or I should say strolls, he is not a very fast walker ☺) Yesterday we went farther then he wanted and he just stopped and fell asleep in the grass. It was so funny. We had to call my son to come and pick us up in the truck.
He has been afraid of our cats. Which really makes us laugh because we were so worried about him chasing them. It gets better every day, so I know it is just a matter of time before he gets comfortable around them.
He has such a big smile. It is a wonderful feeling when I get home from work and he is just wiggling his whole body and smiling at me. It has been great because my husband is on vacation so he has not had to be home alone.
He is sound asleep right now on my son's bed. Thank you for letting me take him home on Saturday. He will be treated like a king and treasured for the rest of his life."
Registered Name: DG Cosmo
Sex: Male
Adopted on: Jun 18th, 2011
Color: White and Black Brindle
Right ear tattoo: 86A
Left ear tattoo: 39553
Birthday: Aug 23rd, 2006
Arrived at NGA: Feb 13th, 2011