<- Back to Happy Tails
Phoebe (was Invoice)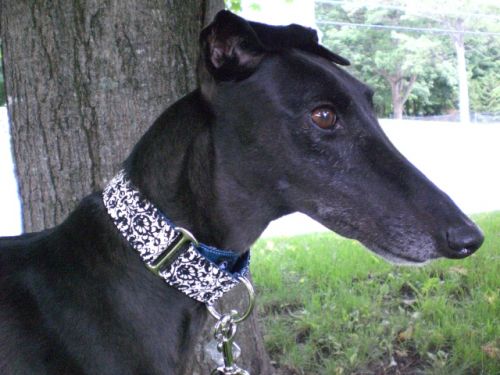 Phoebe's people say ...
"Greetings!
First important business matter: finding this sweet girl a new name not pertaining to boring billing paperwork! After much deliberation we came up with Phoebe, and so far, she wears it proudly!
Phoebe is such a gentle, polite girl, and so smart! She figured out stairs right away and after a few days of nonaggressive curiosity, she settled right in with her 2 fluffy, meowing siblings. Our cat, Xavier, even brushes up against her legs, wipes his face in her ears while she's sleeping and shares her bed and she doesn't mind.
We also get the funniest comments about her on our walks such as "Phoebe feels like a cat" and "Those ears are a work of art!" She has met most of the neighborhood dogs and loves to visit them on walks. Getting bumped against and slobbered on by our neighbor's two boisterous Goldens was a bit much for her at first but when they settle down she is happy to socialize with them and have their company.
She is fairly shy around strangers at first, but every kind hand that touches her helps her overcome that. She has settled in beautifully and we look forward to watching her self confidence grow with every new accomplishment."
Registered Name: Invoice
Sex: Female
Adopted on: May 17th, 2009
Color: Black
Right ear tattoo:
Left ear tattoo: 22709
Birthday: May 10th, 2003
Arrived at NGA: Mar 22nd, 2009