<- Back to Rainbow Bridge
Tahoe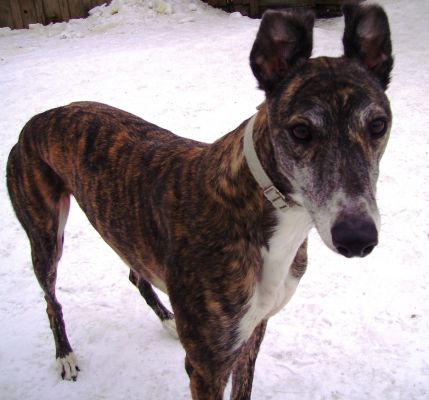 Run pain free at the Rainbow Bridge, sweet Tahoe :(
From his family:
Hi:
As some of you already know our Tahoe was diagnosed with cancer. After seeing the oncolgist we were left with few alternatives. We hoped that we could spend a few more weeks with him, but today we decided to put him to sleep. It was a difficult decision but he was starting to feel to bad again.
Today we put Tahoe to sleep. We had a really good last week and a good weekend, but last night he woke us crying. He did'nt cry for long but it was not the first time it had happened. We decided that it would be better if he did not suffer.
We feel terrible to have lost him so soon, and we loved him so much. It was really hard to let him go and we will miss him so much.
Rest in peace Tahoe...
THE BEST PLACE TO BURY A DOG

"There is one best place to bury a dog.
"If you bury him in this spot, he will
come to you when you call - come to you
over the grim, dim frontier of death,
and down the well-remembered path,
and to your side again.

"And though you call a dozen living
dogs to heel, they shall not growl at
him, nor resent his coming,
for he belongs there.

"People may scoff at you, who see
no lightest blade of grass bent by his
footfall, who hear no whimper, people
who may never really have had a dog.
Smile at them, for you shall know
something that is hidden from them,
and which is well worth the knowing.

"The one best place to bury a good
dog is in the heart of his master."

--- Ben Hur Lampman ---
from the Portland Oregonian Sept. 11, 1925
------------------
Tahoe went to his forever home in Montreal today! (2/21/10)
He's got a new (whippet) sister named Sassy.
------------------
Recent update from his new Mom:
Hi Donna,

I have been meaning to send you an update on sweet, lovely Tahoe. He is settling into life...cars are still a bit daunting at times, but he now happily navigates the stairs, ascending and descending as quickly as possible. It was very funny to see Raz helping Tahoe up the basement stairs....Tahoe seemed determined to have as little to do with the whole process as possible...a few times even resting his head on the step, but now that he has figured the stairs out, he no longer needs help.

Sassy is slowly accepting Tahoe and has even started flirting a bit when Tahoe is relaxing on his bed. As soon as he responds though, she gets a bit testy, but he is very good with her and not bothered with her diva aspirations.

Friday night Tahoe really had a good run...Sassy got him going and then he happily splattered through the muddy field. It is the fastest we have seen him run so far, the other times have been a bit tentative or very goofy and sweet.

Tahoe now has his very own fancy coat. We got to meet Nelly and her two rambunctious greys...Dallas and Chance, so fantastic. I think it was therapeutic for Tahoe....Sassy felt very small.

Tahoe is still in the crate during the day, but we are going to start training him bit by bit outside. We appreciate so much that we got to borrow the crate and the jacket. It made everything so easy for us. If you need the crate for someone else, then please let us know and we will get ourselves sorted.

We have pictures to add soon....just need to get them uploaded.

All the best,

Theresa
Pictures coming soon! :)
------------------
We are committed to finding every one of the Greys that comes to us just the right home, but it breaks our hearts when they are passed over again and again ... Handsome Tahoe has been at the rescue kennel for almost a year and a half! He needs to find his loving forever couch soon!
Tahoe is the funniest vision you've possibly ever seen when he is running. A young girl who took him out to play exclaimed "He runs like a Goofball!", which, in the end, was the perfect description and indicates his personbality better than his often solemn expression does! He is a large, beautiful and friendly boy with wonderfully interesting ears that flip back. Although playful at times he is generally quite calm and quiet.
Tahoe has not tested well with cats or other small animals so far, but is sweet with the children he has encountered.
Registered Name: Rogue Idaho
Sex: Male
Color: Dark Brindle
Right ear tattoo:
Left ear tattoo: 39683
Birthday: Sep 24th, 2006
Arrived at NGA: Sep 1st, 2008
Date this dog passed on: Aug 30th, 2010