<- Back to Happy Tails
Buddy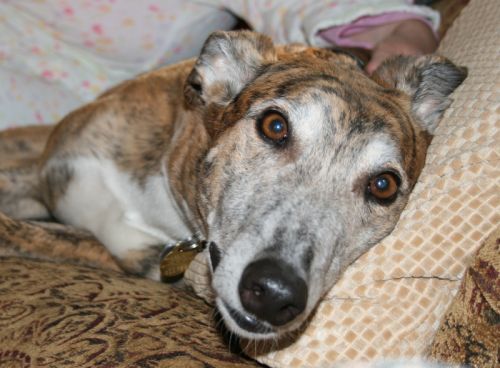 Buddy's mom (Thea, website maintainer for N.G.A.) writes:
"Buddio, Happy Houndie", "Bud-a-boo", "Budderth", Momma's Boy", "Kissy Fur", "Yogurt Monger" ... and the list goes on of nick names!
Buddy is a FANTASTIC ambassador for adoptable retired racers! He makes sure that no one walks by when he's working the crowd at a demo/meet-n-greet, even when he gets tired and lays down it's with part of him in the walkway so people HAVE to notice him!
Buddy was our first Grey, so of course we got a second - Odin! We still have the two German Shepherds, and until recently we had multiple cats - one left, the others recently passed from extreme old age.
Buddy LOVES his kids - well, any kids really (but especially his own), and loves being a doted-upon house-doggy; left-overs, comfy couches, and lubbin's whenever he wants!
Registered Name: Late Fees
Sex: Male
Adopted on: Jun 21st, 2008
Color: Brindle
Right ear tattoo:
Left ear tattoo: 30972
Birthday: Sep 15th, 2004
Arrived at NGA: Nov 1st, 2007