<- Back to Happy Tails
Tobey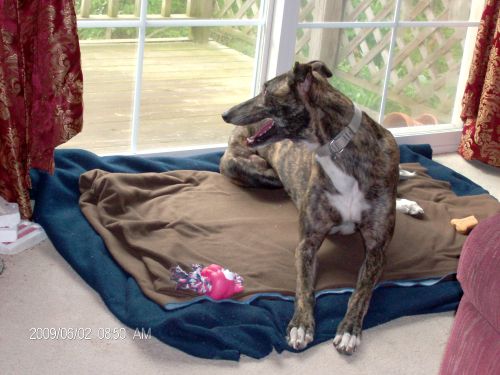 Tobey's mom shared her story of how she came to adopt him ...
"I had been around Tobey for a time before I let Dorothy know that I was going to adopt him. I knew the moment we met that it was surely meant to be, but I had hurdles before I could let Dorothy know for sure. My son and I had been volunteering with Greyhound adoption groups since the 90's and started with N.G.A. when they first arrived at the location they are at now. It was not steady volunteering due to the fact that my job as a Correctional Officer had tremendous work hours. I was layed off at the begining of April this year and it was a very bad blow to me. My son had moved to Burlington last year and I was home alone in an empty house.
I was going through paperwork and saw the monthly Greyhound newsletter that I had been getting every month since the 90's and I was overwhelmed with the fact that even though I was devastated by being layed off, intervention was needed in my life. I have the time to devote to volunteering again and it was up to me to act upon it. The first time I had truly smiled since the day that I was told that I was layed off.
I had no idea that my life was going to change with such force as it had once I went back to volunteering with Dorothy and Donald. But from so many states away, my friends Jamie and Toby knew that I was going to headed for a very bright and purposeful future. I had called my good friend Toby in Louisiana and told him that I was back to volunteering and he said he could hear my smile through the phone lines - he knew that my life was going to change. He said that I had his word on that. My friend Jamie in California is like a sister to me, she has been there for me always. Jamie was excited that I was going back to volunteering and she was jumping for joy along with her daughters (I refer to them as my nieces). All of them gave me strength.
The first day that I went back to Northern Greyhound Adoption, I walked through the door I stopped just inside the door and stood looking around at all of the beautiful Greyhounds, some barking and some laying there minding their own business and not even giving me a glance. The first one that I met at the door was a dark brindle, his kennel was to the right of where I was standing. He was standing there just looking at me, no barking, no nothing, he was just facing me and looking at me. His eyes were so soulful. I said hello to him and there was a flutter of his tail with a white tip on it speeding up to a full blown wag. He then put his whole body against the side of his kennel where I was standing and I pet him all over through the bars. He circled around his kennel and did the same thing looking at me with eyes of an Angel. Of all of the years that I had been around Greyhounds and had seen many come and go, no one had ever touched me that way that he did.
I went into the kennel area and began going to each dog one by one, when I made my way around to the kennel where the brindle that I first met was, I saw the name on the kennel, the name tag said Tobey. Tobey was so excited when I went to the front of his kennel. The woman who was volunteering at the time asked me if I wanted to take him out in the yard. We went out and I took a video of him while he was out there. He was quite a charactor! He would come up to me with his stuffed bunny and want to play. Then he would run circles around me thinking that he had to capture my attention. Little did he know that he had already captured my attention and my heart mear moments after I walked through the door.
Donald and Dorothy were Heaven sent to me at a time I needed them most. Also from N.G.A. are Rick, Steve, Linda, Pam, Linda and Sue who helped me more than they could ever know. Tobey.. my Angel.
Now I have a guardian Angel in my home and a new job. I was hired by a new business across the street from me and I begin that job in a few weeks. I walked in the Enosburg Dairy Fest Parade behind the Northern Greyhound Adoption float with Tobey. Tobey and I have been doing meet and greets, and we have been out walking the neighborhood. I have confidence and pride with him.
Many people like me assumed that Angels are to be seen in Heaven only. Just so you know, Angels that are amoung us here on earth come to us in all forms.
Respectfully, Paula-Hatin-St.Amour"
Registered Name: Rogue Wyoming
Sex: Male
Adopted on: Jun 5th, 2009
Color: Dark Brindle
Right ear tattoo:
Left ear tattoo: 39683
Birthday: Sep 24th, 2006
Arrived at NGA: Sep 30th, 2008