<- Back to Happy Tails
Roan (was Chubs)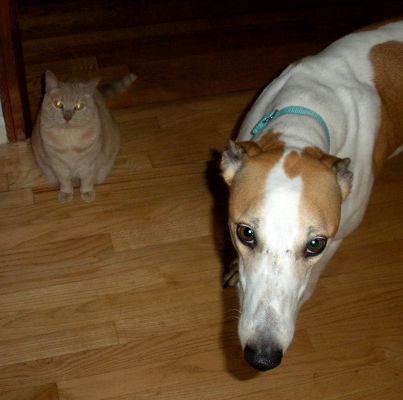 Roan's Mom writes:
Roan (aka Chubs) has been adjusting well to his new home over the last 2 months! He lives with his new mom(me) and dad, his human 9 year old sister, Elah, his human 17 month old brother, Myles, and a cat sister, Tomasina, who is 8. Roan is wonderful with the kids and keeps a close watch on Myles. He can be a bit clumsy when he is excited about something (usually a walk or food) and doesn't know his own size sometimes when maneuvering around Myles who he is taller than! Luckily Myles doesn't mind an occasional bump and they are good pals. Myles even shares his food.....Roan's favorite hang out is right under the highchair:) Sina(the cat) let Roan know who was boss the day he came home. He kept his distance for about a week until she warmed up to him and now they seem to enjoy eachothers company.

Roan loves his twice daily walks, especially when we hit the trails near our house. He caught on to walking next to a stroller right away. Roan is so eager to meet everyone we encounter, such a social butterfly and everyone always comments on what a beautiful animal he is! Our newly fenced-in backyard has been great, though we sometimes have to shove Roan out the door to go to the bathroom as he would much rather be going out the front door. Front door=WALK or CAR!!

At first, Roan was very satisfied with his "dog beds", but has recently decided that only the couch will do downstairs during the day and then at night, OUR bed(only when he is invited). We didn't hear a peep out of Roan's mouth for the first month he was here. Then we took him to doggy daycare for the first time while we were at work and ever since, he is certain to give a little bark or two to let us know he wants something or even when he is just plain bored. Must have been a new trick he learned there:) Roan has made a great addition to our family and we are so excited to spend many years with him! Check out a few pictures I have attached of Roan at home.

Thank you,
Erin, Manny, Elah & Myles Robertson
----------------
Sweet Chubs is ironically named - he hasn't a spare ounce! He is sweet and gentle and really wants to please, Chubs is also a leaner and has the best smile going!
Chubs is great with children and seems to be small animal safe!
Registered Name: DB's Last Shot
Sex: Male
Adopted on: Aug 16th, 2009
Color: Red & White
Right ear tattoo: 66D
Left ear tattoo: 39332
Birthday: Jun 18th, 2006
Arrived at NGA: May 15th, 2009