<- Back to Happy Tails
Roxy (was Fiona)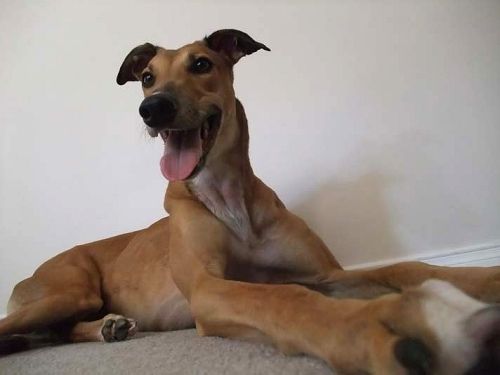 Fiona's Mom writes:
"Good Day,
Below is a short update on Roxy (Fiona) who we adopted with GSNCR on 16Aug09. I have attached a couple photos of the last week with her (1st 4 above), including one of her "swimming" on her third day home!
Shortly after bringing Fiona home, we decided she needed a name that properly relates to her beautiful red coat. After some research, debates, and votes, we decided nothing would suit her better than Roxy! The name derives from Roxanne which in Persian is "shinning bright" or "bright dawn", which we think she most definitely is.
She is settling in nicely with her older Grey brother Dash, and two cat-siblings Skyler, and Mittens. She's just a doll, and everyone loves her. She's outgoing, friendly, cuddly, and very silly. She is well mannered, great on leash, and just plain fun to be around. She has definitely brightened up our lives and brought many of smiles to our faces. She has taken to the retired life well, and she will be living out the rest of her days here on our couch.
Thank You

Mel, Chris, Dash, Roxy, Skyler, & Mittens"
------------
Fiona is such a PRETTY fawn! Her red is deep, her eyes look like the best make-up artist lined them, and her fade-to-black tail is just too cute! Very sweet with children too!
Registered Name: Fonietta
Sex: Female
Adopted on: Aug 16th, 2009
Color: Fawn
Right ear tattoo: 17I
Left ear tattoo: 40897
Birthday: Jan 17th, 2007
Arrived at NGA: May 15th, 2009