<- Back to Happy Tails
Lee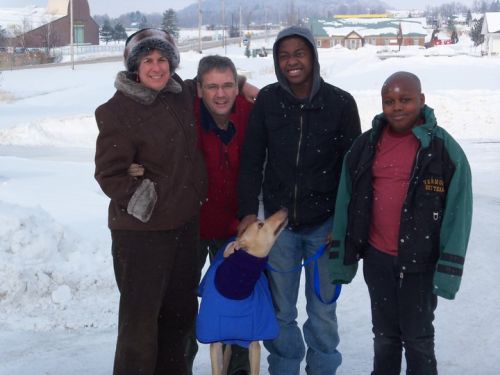 Lee's Mom writes:
"Hi Sue,

First real test of Lee's comfort – we had a party for 25 (yes 25) 8th graders last night. We thought we would take Lee out for a short intro and then bring him upstairs for the duration, away from the chaos. He stayed and just milled around, nuzzling up to the adoring kids - but so quietly you hardly knew he was there. It went on for 4 hours until about 10:00. With all the girls gone, we had the remaining dozen boys sleep over. They crashed on the floor and sofas and Lee chose to crash out right among them – more like right in bed with them. I think he had more fun than the kids.
He's a perfect fit and thank you for being the perfect matchmaker.
Theresa
Happy New Year!"
-----
Lee is finally now in his FOREVER home!
Registered Name: Breezy Lee
Sex: Male
Adopted on: Dec 26th, 2010
Color: Fawn
Right ear tattoo: 47D
Left ear tattoo: 41922
Birthday: Apr 8th, 2007
Arrived at NGA: Aug 2nd, 2009