<- Back to Happy Tails
Scealta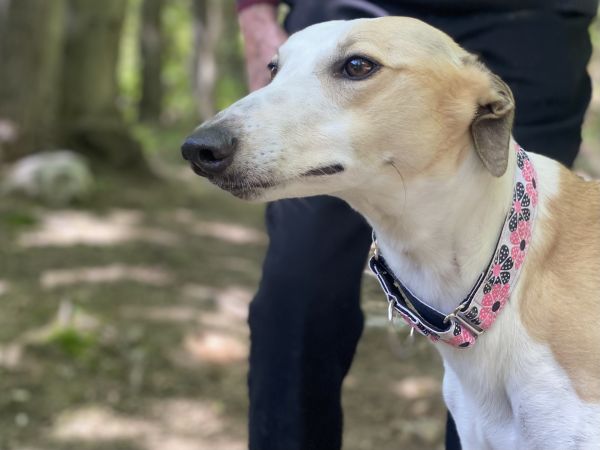 this is what they have to say about Scialta in Ireland:
Scealta is a very affectionate and loveable girl who loves to be petted.
She has limited experience with children, but she gets on very well with any vistors to the house, greets people happily and stands very patiently to be rubbed etc so would be expected to get on well with children too.
Scealta gets on very well with other Greyhounds and has been successfully sharing a couch with her dam Kayla in recent weeks. She hasn't had much experience of smaller dogs but has had no difficulty with Greyhound pups.
She has had no experience with cats.
Scealta is very happy around people and likes being in the centre of the action. She presses her head into people's laps and looks up at them adoringly with big brown eyes waiting for attention or tidbits. She loves being stroked or groomed.
Scealta loves being brought for walks on the lead and hops into the van happily is she thinks she is going for a walk. Scealta also loves stretching out on the couch with her four paws up in the air and has been known to gently paw at any humans who might be in her way. If that doesn't work she will flop down beside them and share.
Scealta is called after her sire; Good News, Sceal being Irish for News.
Scealta is a very attractive, unusual white and fawn colour. She has a noticeably soft coat.
Scealta is a very healthy young Greyhound who is being rehomed due to being unenthusiastic on the track. She thinks she is far more suited to the role of family pet!
Registered Name: Right Scealta
Sex: Female
Adopted on: May 14th, 2023
Color: white and fawn
Right ear tattoo: XVRMU
Left ear tattoo:
Birthday: Apr 15th, 2021
Arrived at NGA: May 11th, 2023